Shop at Rikki Tikki
The best products
We offer a wide range of quality goods within many different categories. Whatever you're looking for, we have something to suit you. Our products are carefully selected to ensure that our customers get the best of the best.
Featured products
We have selected some of our popular products
An online universe of home interiors
Rikki Tikki Shop is an online universe of home interiors, which sells home textiles and applied art for you who love design and interior design. Our style is classic with a twist of quirky and unique products from a wide range of brands. Events and holidays - especially Christmas - are our speciality, which is why you can always find (gift) inspiration - baptism, confirmation, wedding, etc. as well as almond gifts and advent calendar gifts for Christmas. Our passion is interior design, and we are therefore happy to invite you to our universe of home interiors. If you have questions or good ideas, you are always welcome to contact us.
Price guarantee on products in the shop
We offer a price guarantee on all our products in our webshop! This means that if you find the same product cheaper elsewhere, we will match the price. With us, you can be sure that you will get the best price on the market. We want to give our customers the best experience and trust in our webshop, and that is why we offer this price guarantee. Shop with peace of mind and save money on your purchases today!
Latest products
Take a look at the latest products in the shop
Bitz Sauceske, sort
Christian Bitz er uddannet cand.scient i human ernæring og forskningschef på Herlev og Gentofte Hospital, hvor han er involveret i talrige forskningsprojekter og udvikling af maden til patienterne. Christian Bitz kan med en flot serie af bestik, stel og glas føje 'service-udvikler' til sit i forvejen omfangsrige cv. I udviklingsprocessen har Bitz taget udgangspunkt i den viden om sundhed, han har erhvervets sig som forsker, forfatter og foredragsholder. I udviklingsprocessen har han både draget nytte af forskellige materialers strukturer og farver samt lavet et design, der gør det nemmere at få styr på portionerne – ideen er kort og godt, at det skal være sjovere og nemmere, at være sund i hverdagen!
Pudebetræk, Dagny, 63 x 60 cm, straw w. bark
Nyd en fredfyldt søvn med et sprødt pudebetræk. Dagny kommer i en mat jordtone med grønbrune nålestriber, har en kuvertlukning og er luksuriøst blødt takket være en enzymvask. Det er lavet af OEKO-TEX® 100 certificeret økologisk bomuld i en tæt percalevævning. Du får lækkert og åndbart pudebetræk til en forfriskende nattesøvn. Sæt det sammen med et dynebetræk fra byNORD i samme farve, eller bland dine yndlingsfarver for et unikt look og tilføj lidt diskret luksus til dit soveværelse. Design: by Nord Størrelse: 63 x 60 cm Materiale: Økologisk bomuld Vaskeinstruktion: Finvask, skånsom 60° C, Må ikke bleges, Tørretumbling ved nedsat hastighed ved højst 40° C, Stryges ved lav temperatur, Må ikke renses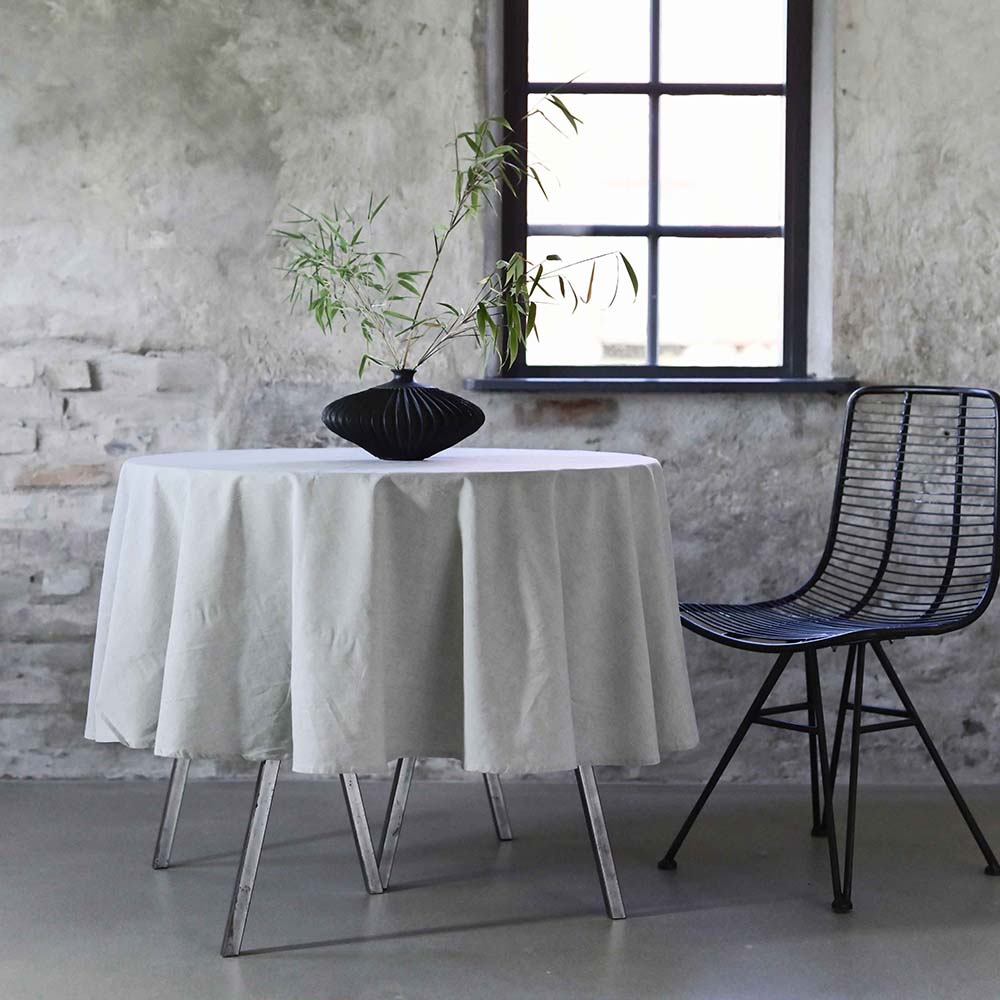 Eden dug, Ø 180 cm, Off hvid
Trænger hjemmet til en lille makeover? Med disse skønne produkter fra Fondaco kan du for få penge forny hjemmet. Design: Fondaco Størrelse: Ø 180 cm Materiale: 100 % Bomuld Vaskeanvisning: 60°
Get inspired for your next interior design project
Are you looking for inspiration for your next home project? Then you have come to the right place! Our website is full of inspiring pictures and ideas for all types of housing projects.
Regardless of whether you need to decorate your kitchen, bedroom or create a cozy outdoor space, we have plenty of inspiration for you. We want to help you create your dream home, which is why we have collected the best ideas and trends on our website. Go exploring and get inspired for your next home project today!